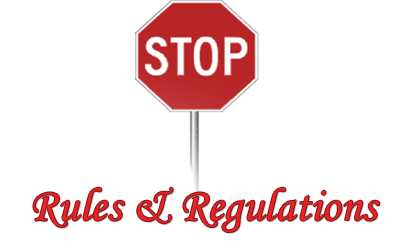 1. All Campers must register at office upon entering. Renters must be at least 18 years of age and provide a valid identification.
2. Camp sites must be kept clean and neat. Non camping articles must be picked up or out of sight.
3. Dogs or other pets must be leashed and kept within the immediate boundaries of your camp site.
Please pick up your animals waste. 4. Campers must have a standard tent camper or recreational vehicle. No "make shift" apparatuses.
5. Only one (1) tent allowed per tent site.
6. No overhauling or major mechanical repair to vehicles on premises.
7. "Quite Time" is from 10:00 pm to 8:00 am.
8. Check out time is 2:00 pm.
9. Illegal drugs, firearms and other weapons are strictly prohibited.
10. Speed limit in the camping area is 5 mps and in the park 10 mph. Do not drive on areas not surfaced for travel within the park.
11. No cutting down trees, breaking branches or nailing into trees without permission.
12. All equipment and personal property brought into camping area and park is the responsibility of the owner.
13. Registered campers are responsible for their guests.
14. No glass containers are allowed in Kemper Williams Park.
15. Sleeping in a vehicle or on the ground in sleeping bags is prohibited.
16. Loud music and profane language is prohibited.
17. Disturbances, including fighting or unruly behavior are prohibited.
18. Kemper Williams Park or St. Mary Parish Government assumes no responsibility for accidents, injuries, or for lost or stolen property.
19. Must be at least 18 years of age to operate a golf cart on the premises. No ATV's are allowed in the park.
20. No parking on empty sites. Only RV's are allowed to park on campsites. No boats, vehicles, golf carts, etc. allowed to park on empty sites.
21. Open Fires are allowed in fire rings only. No open fires are allowed in any other area of the park. This rule does not apply to barbeque pits lighted for cooking purposes or to butane tanks and burners for boiling seafood.
22. If you are late on your rent you will be charged $5.00 per day until you pay your rent.
23. Violation of any of these rules will result in permanent expulsion.